Lunar Woundwort

This remedy is for those who suffered at the hands of another. It is the remedy for those who, in a previous life, have been robbed or cheated of something that has been of great value. This may well have been material possessions, trust or even life. Woundwort is useful to heal karma from past life relationships where one party experienced the other taking something of value away from the relationship. It is not what has been taken away which is of importance but the accompanying feeling; the shape of that emotional wound is what returns in future incarnations to be healed. Therefore woundwort can be used to heal any form of past life robbery, be it physical, emotional, mental or spiritual. Present life lack of trust is often the result of past life robbery.
The initial relationship between Woundwort and humanity was established when the first dwellings were built on the continent of Atlantis: Woundwort was taken inside to bless and protect the properties. Woundwort played a similar yet more complicated role in the royal palaces during the height of the Atlantean nobility. Woundwort's present name is an empathetic link to a later Atlantean period: because of the already well-established relationship between this plant consciousness and humanity it was universally used to treat many physical ailments that arose out of the use of nuclear energy.
Lunar Woundwort resonates with the Taurus\Scorpio polarity.
Keywords: past life robbery
Extract from: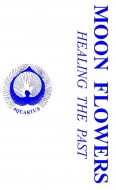 Healing the Past
The book contains all the detailed descriptions of the Moon Flowers and Environmental Essences, giving their uses in healing the karmic wounds carried through from previous lives.
As well as detailing the current healing use of each remedy the book presents the genesis of the flowers as they were created on the continent of Lemuria and the subsequent way they were employed by the Atlanteans. Two methods are given for taking the remedies.
A 12 page appendix discribes, through each of the lunarised flowers, how the soul works with the karmas of inheritance, transformation and transcenence.
Moon Flowers can awaken deep memories from the past, often blocked or repressed so they can be consciously acknowledged and released. They also work at a gentle and subtle level, easing the karmic knots which have become tightly bound and thereby facilitate past life healing.
The Sun is our celestial Father and the Moon our celestial Mother.
It is to the Mother these flower remedies are dedicated.
A4 format, 50 pages, spiral bound